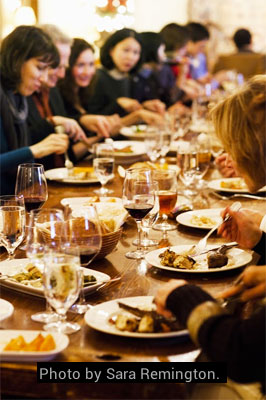 HAPA Dutch Treat Dinner
May 21st, 2013
8:45PM
Kokkari Estiatorio
200 Jackson St
San Francisco, CA 94111
(415) 981-0983
(between Front St & Battery St)
Neighborhood: Financial District
[googlemap width="450″ height="400″ address="200 Jackson St, San Francisco, CA 94111″]
Welcome to Kokkari Estiatorio, a Restaurant that prepares the finest Hellenic cuisine; which is one of the many wonderful gifts that the ancient Greeks contributed to the modern world.

The origin of this cuisine, (so mythology tells us), began when Zeus planned his wedding banquet to celebrate his marriage to the Goddess Hera, on the island of Samos. Zeus commanded that Dionysos, the God of food and wine gather the world's freshest, healthiest, and most savory ingredients and to prepare a banquet truly "fit for the God's". Zeus loved this food so much that he decided to share it with his beloved Greek mortals giving birth to this new cuisine.

At Kokkari Estiatorio, we prepare this Aegean cuisine in the style of innovative California faire. So please, come and join us for a truly memorable experience!