HELLENIC AMERICAN PSYCHIATRIC ASSOCIATION
HAPA 21st ANNUAL MEETING
Monday May 3rd 2021
Virtual
Time:  2:00PM- 4:00PM EST, 9:00PM – 11:00 EEST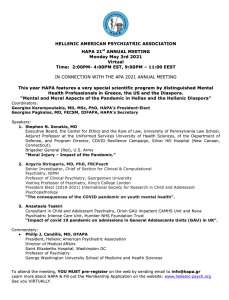 HELLENIC AMERICAN PSYCHIATRIC ASSOCIATION
HAPA 21st ANNUAL MEETING
Monday May 3rd 2021
Virtual
Time:  2:00PM- 4:00PM EST, 9:00PM – 11:00 EEST
IN CONNECTION WITH THE APA 2021 ANNUAL MEETING
This year HAPA features a very special scientific program by distinguished Mental Health Professionals in Greece, the US and the Diaspora.
"Mental and Moral Aspects of the Pandemic in Hellas and the Hellenic Diaspora"
Coordinators:
Georgios Karampoutakis, MD, MSc, PhD, HAPA's President-Elect 
Georgios Pagkalos, MD, FECSM, IDFAPA, HAPA's Secretary
Speakers:
Stephen N. Xenakis, MD
Executive Board, the Center for Ethics and the Rule of Law, University of Pennsylvania Law School, Adjunct Professor at the Uniformed Services University of Health Sciences, of the Department of Defense, and Program Director, COVID Resilience Campaign, Silver Hill Hospital (New Canaan, Connecticut).
Brigadier General (Ret), U.S. Army
"Moral Injury – Impact of the Pandemic."
Argyris Stringaris, MD, PhD, FRCPsych

 
Senior Investigator, Chief of Section for Clinical & Computational
Psychiatry, NIMH
Professor of Clinical Psychiatry, Georgetown University
Visiting Professor of Psychiatry, King's College London
President Elect (2019-2021) International Society for Research in Child and Adolescent Psychopathology
"The consequences of the COVID pandemic on youth mental health". 
Anastasia Tsakiri
Consultant in Child and Adolescent Psychiatry, Orion GAU impatient CAMHS Unit and Nova Psychiatric Intense Care Unit, Humber NHS Foundation Trust 
"Impact of covid 19 pandemic on admissions in General Adolescents Units (GAU) in UK". 
Commentary:
Philip J, Candilis, MD, DFAPA
President, Hellenic American Psychiatric Association
Director of Medical Affairs
Saint Elizabeths Hospital, Washington DC
Professor of Psychiatry
George Washington University School of Medicine and Health Sciences
To attend the meeting, YOU MUST pre-register on the web by sending email to info@hapa.gr 
Learn more about HAPA & Fill out the Membership Application on the website: www.hellenic-psych.org 
See you VIRTUALLY.